Sober Life Recovery Solutions, an outpatient rehab in San Diego, CA is one of the first to offer TeleHealth – a virtual service that gives people online access to substance abuse and mental health therapies.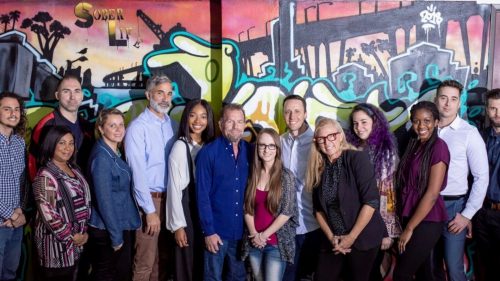 San Diego, United States - April 5, 2020 /MarketersMedia/ —
With a deadly pandemic on the rise, locals who struggle with substance abuse or their mental health no longer feel safe to leave their homes. Sober Life Recovery Solutions assures the public that amidst the coronavirus scare, patients can continue to receive treatment via their new TeleHealth service.
TeleHealth makes it possible to provide treatments for substance abuse and mental health over a virtual platform. Sober Life Recovery is one of the first to offer it in San Diego County.
The novel coronavirus is highly contagious. According to the World Health Organization (WHO) it has the potential to spread to 2 to 2.5 people at a time.
COVID-19 can be deadly too. While it has a low fatality rate of 5.1 percent, the rate at which it is spreading drastically increases the number of associated deaths. As of this writing, there are more than 1 million cases and over 51,000 recorded deaths across 181 affected countries worldwide.
Presently, California has 10,695 confirmed cases and 236 deaths. In an attempt to curb the spread of COVID-19 in a state with 40 million people, California Governor Gavin Newsom announced a 'Stay at Home' order for all its counties, including San Diego.
The order urges residents to stay at home and to go outside only when necessary, such as getting food and medicine, or seeing a doctor. People were also ordered to work from home unless they belonged to a sector that provided "essential" services such as public safety, medical care, and sanitation.
In San Diego County, among those that continue to operate are rehabilitation centers. While there are locals who continue to seek these outpatient services, there are many others who would rather discontinue their treatment and stay at home. It's safer than having to go outside and risk contracting the deadly coronavirus. Unfortunately, interrupting treatment also drastically increases the chance of relapse. Relapse can often lead to decreased quality of life and even death.
Sober Life Recovery Solutions – a San Diego based facility that provides outpatient rehab for drug addiction, alcohol abuse, and accompanying mental health issues – is now offering its services online to ensure the sustained recovery of patients who wish to stay home.
"People suffering from drug and alcohol abuse that were being treated in rehab are being affected by the threat of coronavirus. So we decided to convert our entire program online to minimize the risk and stress of exposing yourself to the virus," says Dr. JM Evosevich, Chief Executive Officer.
These outpatient treatment programs, which are now accessible through video conferencing, give locals from San Diego County and all over California the opportunity to recover from the comfort and safety of their homes. Existing clients whose treatments were interrupted by the coronavirus pandemic can resume their therapy via TeleHealth. This enables them to prevent relapse and sustain long-term recovery. New patients are also welcome to start a program and begin their recovery journey with the online platform.
"We believe these are life-saving services that are critical to public health. So we are now accepting admissions for those needing mental health and substance abuse support during these difficult times," Dr. Evosevich explains.
Indeed, deaths related to drugs and suicide have been increasing in San Diego County over recent years. According to the 2019 Meth Strike Force Report, methamphetamine use accounted for 328 deaths in 2018 compared to 89 deaths in 2009. Methamphetamine is just one of many drugs that can result in accidental deaths.
KPBS reported that 465 people died from suicide in San Diego last 2019, up from 458 the previous year. By placing itself on the frontlines of virtual rehab services, Sober Life Recovery gives people the option to pursue recovery from a remote location. Patients who previously had limited access to addiction treatment will finally be able to get help thanks to TeleHealth.
Sober Life Recovery Solutions is a rehabilitation center that specializes in outpatient care. The facility caters to people with substance abuse disorders and related problems with mental health. By providing day treatments such as Partial Hospitalization, Intensive Outpatient, and Outpatient Programs, patients have the freedom to live normal lives while undergoing rehabilitation.
@Soberlife_SD on Instagram!
Facebook.com/soberlifesd
SoberLifeSD.com
###
For more information, please call Sober Life Recovery Solutions at (619) 542-9542 or email info@soberlifesd.com. 1446 Front St., Suite 400, San Diego, CA 92101.
Contact Info:
Name: Keegan Warrington
Email: Send Email
Organization: Sober Life Recovery Solutions
Address: 1446 Front St., Suite 400, San Diego, CA 92101
Phone: (619) 542-9542
Website: http://soberlifesd.com/
Source URL: https://marketersmedia.com/sober-life-recovery-offers-online-rehab-as-safe-alternative-amidst-covid-19-outbreak/88952511
Source: MarketersMedia
Release ID: 88952511